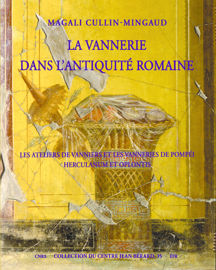 Depuis plus de quarante ans, Les Publications du Centre Jean Bérard ont pour vocation de faire paraître des ouvrages scientifiques d'archéologie de l'Italie du Sud. Dans ses différentes collections, elles proposent essais, thèses, comptes rendus de fouilles, actes de colloques et de séminaires, bibliographie topographique. Les Publications se sont également dotées d'une collection de récits de voyageurs français du « Grand Tour » et d'études sur des peintres de cette époque.
Available with contents on Pompeii and/or Herculaneum:
Grell, C. (1982)

.

Herculanum et Pompéi dans les récits des voyageurs français du

xviii

e siècle

(Mémoires et documents sur Rome et l'Italie méridionale II). Naples.
Cullin-Mingaud, M. (2010)
.
La vannerie dans l'Antiquité romaine: les ateliers de vanniers et les vanneries de Pompéi, Herculanum et Oplontis
(Collection du Centre Jean Bérard 35). Naples.
Only problem linked with OpenEdition: citation will become a mess, OE never inserts original pagination in electronic versions.